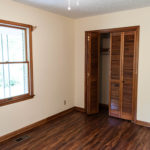 No Floorplan(s) Available
Floor plan is for visual representation only. Actual floor plan may be reversed or have minor differences.
Please type your question about Randall House in the area below and click "Submit." We will get back with you as soon as possible.
Please enter your starting address, including city and state in the form input below.
Features
Stainless Kitchen Appliances
Wood Stove
Wood/Wood Look LVP Floor(s)
Creek Nearby
Ceiling Fan(s)
Air Conditioning
Washer/Dryer
Microwave
Dishwasher
Garage or Carport
Pet Friendly
Sit on the covered front porch of the meticulously updated 3 BR Randall House and across the road enjoy the pastoral view of Elk Creek and it's various renditions. Relax by the fire in the living room's wood stove. Throughout the house is easy to maintain "wood look" Luxury vinyl plank flooring.
Read More
The kitchen is well equipped with stainless steel appliances including a dishwasher, microwave, stove and refrigerator. Other features include heat pump with air conditioning, washer/dryer, carport, covered front porch and mountain spring water. Only satellite internet is available (not included).
To get to the App State campus or downtown Boone, NC it takes approximately 20 minutes (11.1 miles). Elk Creek Road (which this house is on) is a curvy winding mountain road (not for everybody) that drops in elevation more than a thousand feet from the BR Parkway to the Triplett Fire Dept (at Jakes Mtn Rd) before it flattens out. Living down in the valley at the bottom of the mountain in Triplett, NC is not for everybody but for the folks who do, they love it. It is a whole different experience compared to living at the top. Due to the difference in elevation and the wind often being blocked by the mountain, means that the temperature is normally 5 to 10 degrees warmer than up on the mountain in Boone, NC. Normally means you can be outside longer in the fall and spring, that it is warmer in the summer and winters are less severe. Triplett, NC has Deep Gap, NC mailing addresses. *Pets-Tenants with an approved pet pay $30 more per month in rent, pay a non-refundable pet fee and sign a Pet Addendum (Under Long- Term Rental Info).
Rental Rates
Number of Tenants
1 Person
2 People
3 People
4 People
Rental Rates:

1 Person

$1,390

2 People

$695 ea.

3 People

$465 ea.

4 People

$350 ea.
Some rentals prices are quoted per person (ea.). Multiply the each (ea.) person price times the number of persons stated to arrive at the total monthly rent.
Utilities
Cable & Broadband Internet is not available at this location. Satellite TV & Satellite Internet are the only option. No Utilities Included. House has spring water and septic sewer system.
If you would like to send this property to a friend or family member that you think may be interested, please complete the form below. To send this property to multiple recipients, enter each email separated by a comma in the "Friend's Email" field.