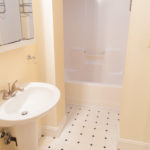 Please type your question about Grand Blvd House in the area below and click "Submit." We will get back with you as soon as possible.
Please enter your starting address, including city and state in the form input below.
Read More
The basement is damp, has a dehumidifier and is not suitable for storage.
Rental Rates
Number of Tenants
1 Person
2 People
3 People
4 People
Rental Rates:

1 Person

$2,880

2 People

$1,440 ea.

3 People

$960 ea.

4 People

$720 ea.
Some rentals prices are quoted per person (ea.). Multiply the each (ea.) person price times the number of persons stated to arrive at the total monthly rent.
Utilities
No utilities included except for trash and recycling pickup.
If you would like to send this property to a friend or family member that you think may be interested, please complete the form below. To send this property to multiple recipients, enter each email separated by a comma in the "Friend's Email" field.