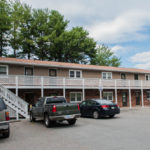 Please type your question about Meadowview Apts 12 in the area below and click "Submit." We will get back with you as soon as possible.
Please enter your starting address, including city and state in the form input below.
Features
Electric Baseboard Heat
Walk to Levine Hall (BCHS)
AppalCART
Deck/Patio/Porch
Recycling
Water/Sewer Included
Dehumidifier
Washer/Dryer
Basement Apt
If affordable is the main objective, then this budget priced 3 BR Meadowview Apt 12 is the apt for you. Features include a washer/dryer and a long deck that runs the length of the apt. The "Free" AppalCART bus picks up at the street and goes to the App State campus and around Boone NC.
Read More
App State's Levine Hall (BCHS) is only 3 blocks away but it is across a very busy and dangerous Highway 321. A safer route to walk there, takes less than 20 minutes (1 mile). See safer route* directions below. Enjoy the benefits of living at the edge of Boone NC's main shopping area. Walmart, Walgreen, Food Lion and many other shops and restaurants are conveniently located nearby. To relax, walk or ride a bike on the Boone Greenway Trail located nearby. *A safer route to walk to App State's Levine Hall (BCHS) that takes less than 20 minutes (1 mile). Walk along Highway 321 (Blowing Rock Rd) to the Penn Station East Coast Subs and take the Boone Greenway underneath Highway 321 (Blowing Rock Rd) and follow the greenway (passing Lowe's Hardware) all the way to App State's Levine Hall (BCHS).
Available: August 3, 2024
Specials & Discounts
Kitchen & Bath Remodeled – Pictures coming soon!
Rental Rates
Number of Tenants
1 Person
2 People
3 People
4 People
Rental Rates:

1 Person

N/A

2 People

N/A

3 People

$725 ea.

4 People

N/A
Some rentals prices are quoted per person (ea.). Multiply the each (ea.) person price times the number of persons stated to arrive at the total monthly rent.
Utilities
Rent includes: water, sewer, trash and recycling pickup ($25 per month value, per person). No other utilities are included.
If you would like to send this property to a friend or family member that you think may be interested, please complete the form below. To send this property to multiple recipients, enter each email separated by a comma in the "Friend's Email" field.