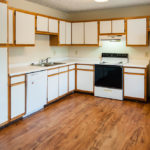 Please type your question about Stone Creek Apts in the area below and click "Submit." We will get back with you as soon as possible.
Please enter your starting address, including city and state in the form input below.
Features
Enter Directly from Outside
Boone's Shopping Area Nearby
Electric Baseboard Heat
Watauga Medical Center Nearby
Walk to Levine Hall (BCHS)
Greenway Nearby
AppalCART
Ceiling Fan(s)
Washer/Dryer
Dishwasher
Sleep late and walk to class in Levine Hall* only two blocks from Stone Creek Apts. Enjoy the appeal of living in a small apt complex. Each spacious 2 BR /2 BA Apt.,washer dryer, dishwasher and 2 spacious BR's each with its own private bathroom.
Read More
Relax in the large open great room/kitchen. Enjoy the benefit of a front door that opens directly outdoors. No interior (access) hallways to worry about. Play basketball or walk the Boone Greenway Trail located one block away. Stone Creek Apts has easy vehicle accessibility year round and a super convenient location on the edge of Boone's main shopping area. Shop nearby at Walmart, Lowes, Food Lion and many other retail stores and restaurants. Ride "Free" on the Red or Express AppalCART bus to go to the main App State campus or elsewhere in Boone NC. *Levine Hall is home to App State's BCHS, the newest part of the App State campus. *Floor coverings in the main living areas and bedrooms may vary and will either be easy to maintain "wood look" Luxury vinyl plank flooring or carpet.
Rental Rates
Number of Tenants
1 Person
2 People
3 People
4 People
Rental Rates:

1 Person

$1,650

2 People

$835 ea.

3 People

$640 ea.

4 People

N/A
Some rentals prices are quoted per person (ea.). Multiply the each (ea.) person price times the number of persons stated to arrive at the total monthly rent.
Utilities
Rent includes: trash pickup and onsite recycling center. No other utilities are included.
If you would like to send this property to a friend or family member that you think may be interested, please complete the form below. To send this property to multiple recipients, enter each email separated by a comma in the "Friend's Email" field.