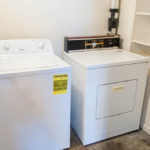 Please type your question about Burlinson Duplex A – Lower in the area below and click "Submit." We will get back with you as soon as possible.
Please enter your starting address, including city and state in the form input below.
Features
New Market Shopping Center Nearby
Electric Included with Elec. Allowance
Wood/Wood Look LVP Floor(s)
Walk to Campus
AppalCART
Yard
Recycling
Water/Sewer Included
Dehumidifier
Washer/Dryer
Dishwasher
Basement Apt
This spacious downstairs 2 BR Burlinson Duplex A apt is located in the center of Boone, NC and walking distance to the App State Campus. Features include a large grassy yard, washer/dryer and dishwasher. Electricity* is included in the rent as well as water and sewer.
Read More
Easy to maintain "wood look" Luxury vinyl plank flooring is throughout. Walk or catch the "Free" AppalCART bus to the App State campus or around Boone, NC. New Market Shopping Center is just a few blocks away and features a Lowes Grocery, Big Lots, theaters, pharmacy and restaurants. Don't worry about cutting the grass ($600 per yr. value), it is included as part of the rent. A propane monitor heater is the primary heating system and the electric baseboard heaters are for the bedrooms if needed. *Electricity is subject to an electricity allowance.
Available: August 3, 2024
Rental Rates
Number of Tenants
1 Person
2 People
3 People
4 People
Rental Rates:

1 Person

N/A

2 People

$845 ea.

3 People

N/A

4 People

N/A
Some rentals prices are quoted per person (ea.). Multiply the each (ea.) person price times the number of persons stated to arrive at the total monthly rent.
Utilities
Rent includes: Electricity*, water, sewer, trash and recycling pick-up. *Electricity is subject to an electricity allowance. No other utilities are included.
If you would like to send this property to a friend or family member that you think may be interested, please complete the form below. To send this property to multiple recipients, enter each email separated by a comma in the "Friend's Email" field.