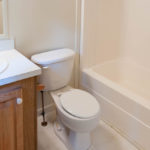 Please type your question about Howard's Creek Apts in the area below and click "Submit." We will get back with you as soon as possible.
Please enter your starting address, including city and state in the form input below.
Features
Electric Baseboard Heat
Great Room
Picnic Table - Grill
Creek Nearby
Fishing Nearby
Volleyball
Yard
Ceiling Fan(s)
Water/Sewer Included
Washer/Dryer
Dishwasher
Pet Friendly
Enjoy country living in these spacious 2 BR, 2 BA pet friendly* Howard's Creek Apts with washer/dryer, dishwasher, walk-in closets and ceiling fans. The great room overlooks an incredible back yard, big as a football field which is a great place to toss a Frisbee, football
Read More
or just hang out with a pet on a warm day. Picnic table, grill and volleyball court await you. If you like to fish or wade, check out Howard's Creek behind the building. In less than 10 minutes (3.6 miles) be on the App State campus or in Downtown Boone, NC with it's variety restaurants, entertainment and shopping choices. *Pets-Tenants with an approved pet pay $30 more per month in rent, pay a non-refundable pet fee and sign a Pet Addendum (Under Long- Term Rental Info). **Floor coverings in the living rooms and bedrooms may vary and will either be easy to maintain "wood look" Luxury vinyl plank flooring or carpet.
Specials & Discounts
Unit #7 Available November 3, 2023
Rental Rates
Number of Tenants
1 Person
2 People
3 People
4 People
Rental Rates:

1 Person

$1,550

2 People

$775 ea.

3 People

$600 ea.

4 People

N/A
Some rentals prices are quoted per person (ea.). Multiply the each (ea.) person price times the number of persons stated to arrive at the total monthly rent.
Utilities
Rent includes: Well water, septic sewer system and trash pick-up ($30 per month value, per person). No other utilities are included.
If you would like to send this property to a friend or family member that you think may be interested, please complete the form below. To send this property to multiple recipients, enter each email separated by a comma in the "Friend's Email" field.