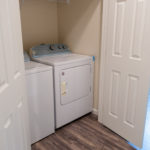 Floor plan is for visual representation only. Actual floor plan may be reversed or have minor differences.
Please type your question about Windy Drive TH 126 A & B in the area below and click "Submit." We will get back with you as soon as possible.
Please enter your starting address, including city and state in the form input below.
Features
Parking Included Value $2700*
Stainless Kitchen Appliances
Townhouse Style
Downtown Boone Minutes Away
Walk to Campus
AppalCART
Deck/Patio/Porch
Air Conditioning
HVAC
Washer/Dryer
Microwave
Dishwasher
Built in January 2019. Only one block to the App State campus from the super location of these luxury 4 BR, 4 BA Windy Drive Townhouses 126 A & B. Enter the great room from the covered deck , the well-appointed kitchen with stylish wood cabinets and stainless steel appliances
Read More
including dishwasher, microwave stove and refrigerator to one side of it and the main living area on the other. Enjoy the view of the App State campus from each of these townhouses and relax in the grassy yard under the shade of a mighty oak tree. In addition these townhouses have 9 ft. ceilings downstairs, a washer/dryer and an efficient heat pump providing central heat and AC. Talk about a convenient location; choose from a variety of nearby restaurants to eat at., if you need groceries or a pharmacy the Earth Fare grocery store and King Street pharmacy are less than 2 blocks away, Downtown Boone, NC is just a 10 minute (.6 miles) walk with its variety of entertainment, dining and shopping choices. Walk or ride the "Free" AppalCART bus to other parts of the App State campus or all over Boone NC. *Included in the rent is parking for up to 3 small to medium size cars belonging to tenants.
Available: August 3, 2024
Rental Rates
Number of Tenants
1 Person
2 People
3 People
4 People
Rental Rates:

1 Person

N/A

2 People

N/A

3 People

N/A

4 People

$1,075 ea.
Some rentals prices are quoted per person (ea.). Multiply the each (ea.) person price times the number of persons stated to arrive at the total monthly rent.
Utilities
No utilities included except for trash pickup and recycling.
If you would like to send this property to a friend or family member that you think may be interested, please complete the form below. To send this property to multiple recipients, enter each email separated by a comma in the "Friend's Email" field.