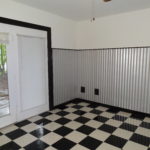 Please type your question about Pine Street Apts 5 in the area below and click "Submit." We will get back with you as soon as possible.
Please enter your starting address, including city and state in the form input below.
Features
Enter Directly from Outside
Parking Included Value $900*
Stick Boy Bakery Nearby
Electric Baseboard Heat
Downtown Boone Minutes Away
Next to App State Campus
Walk to Campus
AppalCART
Deck/Patio/Porch
Recycling
Water/Sewer Included
Dehumidifier
Washer/Dryer
Basement Apt
Sit on your patio and look across Hardin Street at the App State campus. This 1 BR Pine Street Apt 5 is an unique example of modern contemporary. From the corrugated metal wainscoting that surrounds the great room to the black and white checkerboard floor and raised eat-at kitchen bar
Read More
with pendant lighting. Stylish contemporary ceiling fans and bath vanity and lighting complete the picture. A washer/dryer is furnished. Enjoy the benefit of a front door that opens directly outdoors. No interior (access) hallways to worry about. Talk about living in a convenient location. Choose from Stick Boy Bakery next door or a variety of other  restaurants nearby to eat at. If you need groceries or a pharmacy the Earth Fare grocery store and King Street pharmacy are less than 3 blocks away. Downtown Boone, NC is just a 12 minute (.7 miles) walk and it offers a variety of entertainment, dining and shopping choices. Walk or ride the "Free" AppalCART bus to other parts of the the App State campus or all over Boone NC. *Included in the rent is parking for 1 car belonging to tenants (valued at $900 yr.).
Available: August 3, 2024
Rental Rates
Number of Tenants
1 Person
2 People
3 People
4 People
Rental Rates:

1 Person

$1,095

2 People

$645 ea.

3 People

N/A

4 People

N/A
Some rentals prices are quoted per person (ea.). Multiply the each (ea.) person price times the number of persons stated to arrive at the total monthly rent.
Utilities
Rent includes: water, sewer, trash and recycling pickup ($50 per month value). No other utilities are included.
If you would like to send this property to a friend or family member that you think may be interested, please complete the form below. To send this property to multiple recipients, enter each email separated by a comma in the "Friend's Email" field.